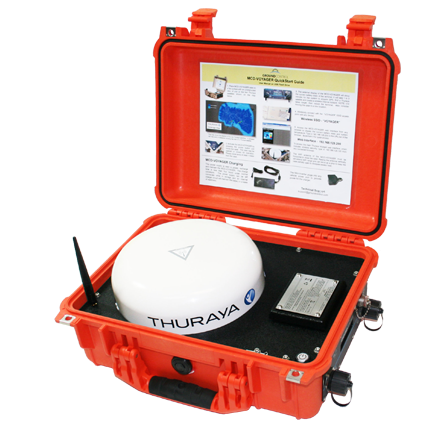 $ 11,695.00
Kit Includes:
•

MCD Voyager terminal case

•

AC/DC power supply charger

•

Mini-inverter for running off a vehicle power port

•

International plug adapters US, UK, EU, AUS, CN

•

Laminated Quickstart guide affixed to lid

•

Miniature compass

•

Carry bag to hold contents of system components

•

USB flash drive with user manuals, mobile status gadget, software
Thuraya MCD Voyager is a 'Mobile Communications Device' that delivers superior mobility without compromising on connectivity.  The MCD Voyager integrates the high performance Thuraya IP Voyager into a ruggedized self-contained, auto-pointing satellite broadband terminal.
Thuraya MCD Voyager comes with a click and go feature. Operated by a single button, it connects with Thuraya network and automatically establishes a Wi-Fi internet hotspot for any wireless device within a 100 meter range.
Designed to be operated by anyone, with no training or certification necessary, the Thuraya MCD Voyager terminal boasts IP broadband speeds of up to 444kbps, while stationary or on the move. 
• Broadband internet access
• Email, web mail, web browsing
• Virtual Private Network (VPN)
• File transfer (FTP)
• Video conferencing
• Video streaming
• Intranet, E-commerce
• Operates while stationary or on the move