VSAT 1.2m ST-4G Ku-Band Fixed Site Antenna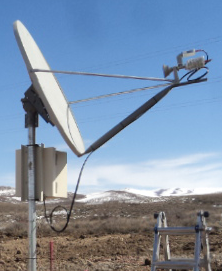 Discontinued
Kit Includes:
•

1.2m 4W Vsat

•

Newtec 3100 IP satellite modem

•

Cisco 2 port ATA phone adapter

•

Antenna cable 110 feet

•

Non-Penetrating Roof Mount

•

Panasonic Analog Telephone
VSAT 1.2m ST-4G Ku-Band Fixed Site Antenna. A custom designed in-building voice and internet business continuity solution designed with low annual reoccuring cost of $1,140 per year and deployment costs under $600/per month. Easy to test and maintain without going outside with your handheld satphone. Kit Includes 1.2m 4W Vsat Newtec 3100 IP satellite modem Cisco 2 port ATA phone adapter Antenna cable 110 feet Now-Penetrating Roof Mount Panosonic Anolog Telephone Overview The Newtec MDM3100 IP Satellite Modem is a 2-way, high throughput modem supporting a wide range of IP Services like internet/intranet access, VoIP, enterprise connectivity and multicasting services. Its ease of installation and high performance modulation techniques enable network operators to offer bandwidth intensive IP broadband services in a cost effective way. It is perfectly fitted to Small and Medium Enterprises (SME) as well as large enterprises or organisations. The MDM3100 easily operates with the MDM2200 IP Satellite Modem on the same platform sharing the forward carrier and management system. The IP Satellite Modem is available with unique Point & Play® easy-installation technology, supporting the installation of the complete terminal by installers without any specific qualification or expensive tooling. Point & Play® provides correct satellite identification and facilitates pointing with an audio feedback. After installation, the integrated certification assures correct installation. It gives instant link quality approval and guarantees that each terminal works at maximum efficiency and there is no interference risk. For a true broadband experience, the IP Satellite Modem incorporates the most efficient technologies available, such as DVB-S2 Adaptive Coding Modulation (ACM) in the forward link, an Adaptive Return Link with advanced 4CPM modulation and IP traffic enhancement software for TCP acceleration, pre-fetching, compression and encryption.
High performance service rates upto 45/5 Mbps
4 Gigabit Ethernet LAN ports
Robust design with 19��� rack mount kit option
DVB-S2 ACM Forward
4CPM MF-TDMA Adaptive Return Link
Compatible with Standard BUC and LNB
Embedded TCP acceleration and encryption
Multi-level Quality of Service
Versatile IP routing and addressing
Low jitter for real time applications
DNS Cache/Relay and HTTP pre-fetching
Support of IPv4 and IPv6
USB interface (future use)
Internal MicroSD card for mass storage (future use)
Over-the-air software upgradeability
Over-the-air monitoring and diagnostics tools