Sea Tel 6012 Ku-Band VSAT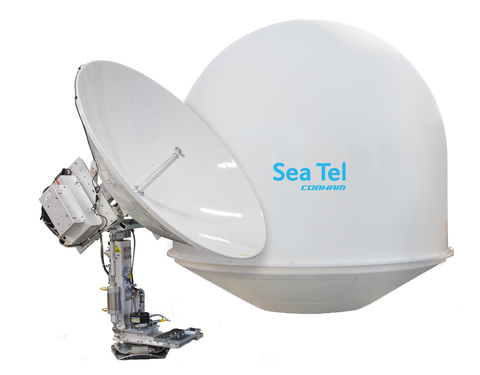 Sea Tel 6012 Ku-Band VSAT is a 3-Axis marine stabilized antenna system compatible with most Ku-band satellites. The revolutionary architecture of this 1.5 meter system is based on Sea Tel's industry leading XX09 marine stabilized antenna system. The 6012 is the industry's first 1.5m Ku-band system powered by integrated marine antenna (IMA) software, supplied in a frequency tuned 76" (1.93m) radome or optionally in a 81" (2.05m) radome with air conditioner. Featuring an integrated control unit (ICU) that offers a single box electronic control solution to maintain the best and most efficient pointing accuracy in the maritime market. With its extended web based secured user interface, builtin remote management capabilities it offers easy integration into network management systems through its Media Xchange Point (MXP), first seen on the 4012 system.
The intuitive web user interface— accessible from practically any internetenabled device, including mobile devices—features secured socket layer (SSL) password protection and multi-level data analysis capability. This makes the IMA software-enabled Sea Tel 6012 ready to face the communications needs of the maritime market in the 21st century.
Sea Tel 6012 is easy to install and designed to meet some of the most demanding shock and vibration specifications, such as IEC 60721, IEC 60945 and MIL STD 167-1. High performance and efficient RF components are integrated in the design of Sea Tel 6012 providing unparalleled reliability
• Transmission rate is compatible with many different types of modems, networks and services.
• IP access to the internet and corporate networks enabling fast downloads of large data files and e-mail.
• Brake system on EL and CL axes to prevent damage due to loss of power.
• Efficient spectral use maximizing cost per bandwidth.
• Easy Stand-alone or network compatible installation.