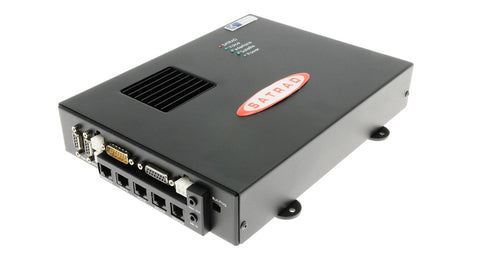 $ 2,660.00
Call for GSA Pricing
SATRAD MATRIX mSeries is a flexible and powerful enhancement to the SATRAD G2 service. Designed for in-vehicle integration the MATRIX provides many benefits including; NI Smart Messaging, providing radio like responsiveness and the ability to interface with a mobile radio to provide a local communications "hot spot". The compact MATRIX form factor lends itself well for integration into emergency responders' "go kits".
Mobile "Hot Spot":
The MATRIX may be combined with a SATRAD G2 and a mobile radio to provide a mobile communications "hot spot". The benefits of ubiquitous satellite coverage are combined with the ability of a terrestrial radio to operate inside buildings and other infrastructure. Typically the equipment would be installed in a first responder's vehicle. In this configuration a dispatcher operating on the satellite network can remain in communication with, for example, a first responder attending an emergency in a remote building in proximity to their vehicle.

Backup Communications:
The SATRAD MATRIX enables push to talk radio traffic to be routed via satellite in the event a trunked radio network becomes inoperative or if the mobile radio is not within range of a terrestrial repeater. Upon restoration of the trunked radio network service or when the mobile radio moves back into range of a repeater tower, the SATRAD-MTX will automatically re-route voice traffic back to the trunked radio network. To prevent unnecessary switching between networks, when the mobile radio is on the edge of coverage or the trunked radio network has become unstable, the SATRAD-MATRIX monitors the terrestrial connection for a configurable time interval to ensure it is stable, prior to switching traffic to the terrestrial network.