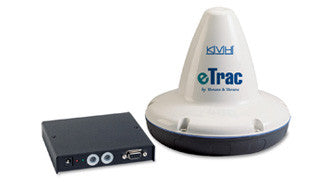 Sailor 6140 Mini-C. KVH's eTrac mini-C/GPS Satellite Communications System provides mariners with worldwide, affordable access to e-mail as well as vessel position reporting.
Standing less than 6" high and weighing only 2.4 lbs., the eTrac antenna is fully integrated, containing a transceiver, antenna, and a 12-channel GPS receiver. The system is compatible with and supports all Inmarsat mini-C satellite network features, including e-mail, position reporting and polling, telex, x.25 and mobile-to-mobile communications. Messages sent can also be converted to fax format. With minimal power requirements and a rugged design, eTrac is an ideal solution for keeping in touch affordably wherever you travel.
Bringing Inmarsat mini-C and GPS together makes eTrac an invaluable business tool for any professional application or commercial vessel. eTrac's e-mail capabilities and global coverage via Inmarsat mini-C make it the ideal, low-cost solution for vessel owners and fleet managers who need to keep in touch wherever they are worldwide. Access to your information is easy through the built-in interface for an onboard computer or laptop. The system can even support data retrieval and transmission from multiple PCs or Message Terminals.
The KVH eTrac is the best choice you can make for keeping track of your world using e-mail.
• Supports e-mail, position reporting, and polling using Inmarsat's new mini-C service plus built-in 12 channels GPS
• Low-cost operation of <1/character
• Rugged, compact design
• Worldwide coverage via the Inmarsat satellite network
• Automatic sleep mode to minimize power consumption
• Connects directly to a laptop or onboard PC for easy installation and operation
• E-mail software included