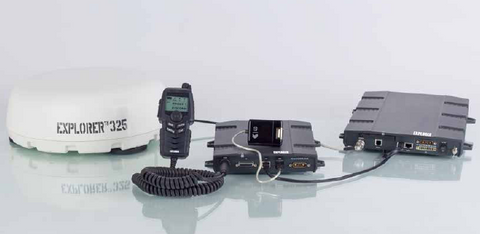 Discontinued
Kit Includes:
•

Explorer 3647 PTT Terminal Interface

•

Explorer Push to Talk Handset
Cobham SATCOM's unique Explorer Push-To-Talk system is based on EXPLORER BGAN terminals and delivers extended coverage, improved call quality and lower costs for mobile workforce communications. 
Explorer PTT extends legacy Push-To-Talk capabilities to hybrid data networks such as terrestrial 3G/4G/LTE cellular networks (where available), supplemented by the Inmarsat BGAN satellite network where no terrestrial network coverage is present.  This, combined with Land Mobile Radio (LMR) integration, provides seamless voice communication in any situation.  With no user intervention required, the system automatically routes voice and data traffic via the least expensive and most reliable network available. 
• A ruggedized and easy to use digital Push-To-Talk communication solution.
• Designed to cost effectively expand or replace Land Mobile Radio systems.
• Built-in support for LMR devices to ensure over-the-horizon radio communication.
• Voice-over-IP technologies optimized for use under difficult satellite or terrestrial link conditions.
• Automatic voice and data least cost routing between cellular (2G/3G/LTE) and satellite (BGAN) networks.
• Beyond Line-Of-Sight communication - global coverage.