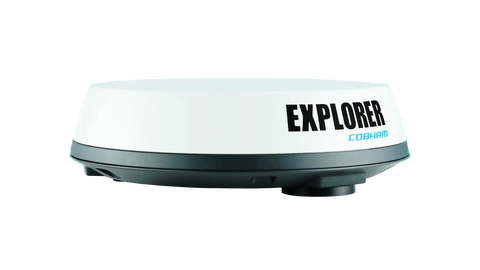 $ 0.00
Kit Includes:
•

EXPLORER 323 terminal (combined tranceiver and switched beam antenna).

•

6m combined DC power and Ethernet cable (open ended)

•

Installation guide
EXPLORER 323 is an ultra compact BGAN terminal for voice and data communication on-the-move, a perfect match for our Cobham PRISM PTT+ solution. The one-piece system consists of a combined transceiver and switched beam antenna with integrated WIFI. Whether you're engaged in humanitarian operations, cargo or rail transportation, telemedicine or emergency services, you need easy deployable communication equipment you can always rely on - regardless of time or place.
Simply place the terminal on the roof - it is easily mounted with optional magnetic mounts - and connect your phone to the EXPLORER app or log onto the wireless network with your PC to turn the vehicle into a mobile communication hub.
The beam switching antenna is ultra compact and lightweight (just 3.9 kg / 8.5 lbs), ideal for vehicles or trains on-the-move. It is designed for robust and durable use with no moving parts.
BGAN offers mobile broadband connectivity wherever you go at fixed pricing with no roaming fees. With the EXPLORER 323 you know your cost of communication regardless of the number of borders you cross.
As a vehicular terminal, EXPLORER 323 is the first terminal to obtain both Inmarsat Class 12 Type Approval and BGAN M2M Certification, enabling it to operate with traditional BGAN and BGAN M2M SIM cards.
• Voice and data communications on-the-move • Ultra-compact, easy to deploy, one-piece design (the transceiver is integrated into the domed antenna) • Rugged and robust with no moving parts • Designed for use with Inmarsat BGAN and BGAN M2M services • Voice calling using the Explorer Connect Android and iOS apps • SMS message using smartphone messaging app • Asset tracking over the BGAN M2M network • Web interface for usage logs, options and many other features.