AVIDdirector-M2M Model 200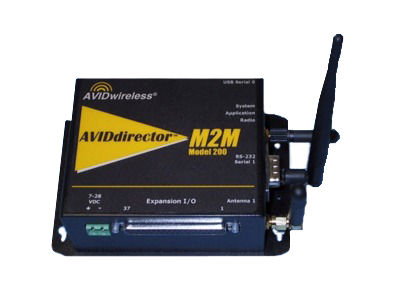 AVIDdirector-M2M Model 200 is designed to make implementing wireless M2M solutions both easier and more affordable. AVIDdirector is a highly intelligent and flexible wireless remote control device that provides connections to a wide variety of wireless and wired sensors.
The easy-to-use open source Java framework gives customers the unique ability to interface many different radios and devices, wirelessly monitor equipment, provide real-time data acquisition of your remote equipment in a plug and play environment. AVIDdirector is unique in that it provides Hardware Over-the-Air reprogrammablity.This makes it easy to maintain and add new hardware features without having to make a site visit. AVIDdirector is the perfect fit for adding wireless control to existing machinery, or to provide constant monitoring of important equipment by using wireless technology.
AVIDdirector-M2M provides you with a powerful yet flexible platform that handles machines, controls, telemetrics, or mobile applications. AVIDdirector is based on a powerful 160 MIPS real-time Java processor running an extended version of J2ME. This allows applications to be developed with a minimum amount of effort using our standardized software framework, or you can leverage your existing wireless Java software and tools to develop a customized application. The Avid Director is a "smart control head" connected to a BGAN Hughes 9201 with remote antenna that has small wireless "smart Sensors" moving data to the "Director". BGAN sends collected data to the internet and then the control center or headquarters users on the internet can monitor and control devices that are in a remote field site.
• Choice of Wireless Communications (GPRS/GSM, CDMA, iDen, Zigbee, WiFi, ISM, LTE, Satellite, Bluetooth, and future technologies)
• Add GPS for Tracking (optional)
• Multiple Carriers (T-Mobile, AT&T, Verizon, Sprint, Rogers, Bell Mobility etc.)
• Hardware Over The Air (HWOTA) Reprogrammability for sensor interfaces
• 22 TTL level Configurable I/O Lines - Analog or Digital, Inputs or Outputs
• Java 160 MIPS Processor with Native Java Byte Code execution
• USB Terminal Console
• Wireless Sensor Receiver (optional) Can Communicate with 100 AVIDSmartSensors