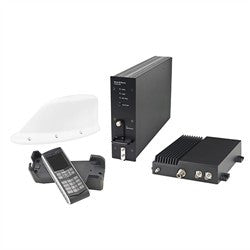 The Cobham Aviator 200 is the lightest, most compact airborne broadband solution on the market today. A perfect choice for smaller airframes or cost-conscious operators looking to add the convenience of in-flight broadband access. With reduced hardware and installation costs, the Aviator 200 is everything you need to stay connected no matter what you fly.
Previously, complete communications solutions have been limited to larger aircraft due to high initial investment and large, heavy antennas. These limitations are no longer an issue with the innovative Aviator 200. The system utilizes a Low Gain Jet Blade Antenna that further reduces weight and size concerns for smaller airframes, making broadband data and high quality voice services available to an even wider range of aircraft.
Being the lightest, most compact broadband system available definitely has its advantages. the hardware itself is engineered for unprecedented flexibility of use. This reduced weight and size makes it ideal for smaller airframes or aircraft already equipped for special missions, but would benefit from the additional capability it delivers. Applications range from general aviation use to mission specific military needs. Plus, powerful options allow the user to tailor the system to their specific needs.
• Inmarsat SwiftBroadband channel for simultaneous data and voice
• Extremely compact and lightweight
• Email with attachments
• Internet access
• Smartphone and tablet connectivity
• Supports up to 3 simultaneous voice calls
• Built-in router for intelligent connectivity support and multiple user support
• Built-in ethernet switch for supporting numerous wired laptops and/or EFBs
• Built-in wireless access point option for supporting numerous wireless laptops, smartphones and/or tablets