Sailor 250 FBB Fleet Broadband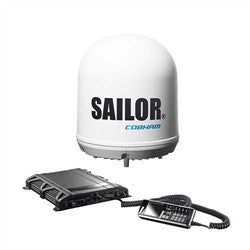 $ 13,310.00
Call for GSA Pricing
 With Sailor 250 FBB Fleet Broadband you have fast connectivity between your vessel and shore, regardless of location or conditions. You can ensure the smooth running of your business, increase crew welfare by providing easy to manage internet access and voice calling or simply enjoy your time at sea with high quality internet and voice communication always available
SAILOR 250 FleetBroadband can be used for dedicated tracking and telemetry applications. This advanced functionality can enhance efficiency by ensuring your support on shore has all the information they need, from real-time engine data for maintenance to position data for fleet tracking and management. Simple and secure installation SAILOR 250 FleetBroadband is fast and easy to install, so getting connected aboard a single vessel or an entire fleet is straightforward and cost-effective. The system is delivered with everything you need to get started in the box and because it is based on standard IP services and features a clear user interface, connecting your computer, corporate network or phone system is simple and secure.
With up to six simultaneous voice lines possible using Inmarsat Multi-voice, an important part of the SAILOR 250 FleetBroadband solution is the Thrane IP Handset. This advanced plug-and-play handset provides an intuitive user interface through a 2.2" TFT colour screen and features cutting-edge technology, such as a state-of-the-art echo cancellation and noise suppression software, for excellent audio clarity.
SAILOR products are highly regarded by maritime professionals for their design and build quality, which results in excellent reliability. To support this, we guarantee fast and dependable service through our established network of On Board Service Centers (OSC). With OSC locations all around the world, service and support is always available, whenever and wherever it is needed.
• Optimal connectivity
• A world of applications
• Multiple voice lines
• Communicate with confidence